Hello friends, today's post is about the information of Gromo App. where we will review Gromo App and tell you what is Gromo App? And how it works, how to use it and how to earn money from Gromo App.
Friends, read the Gromo App carefully. Don't confuse Gromo and Groww App because there is a difference between Groww App and Gromo App. Because Groww App is an Investment Platform whereas Gromo App is a "Financial Products Reselling App" where you can sell Financial Products. Earn money by doing it.
Here you have to sell products like Affiliate Marketing, where you get a certain commission on each sale, here you will not get as much Affiliate Product like Amazon or Flipkart, whose link you can earn money by sharing, but there is some limited product in Gromo App but Good commission is available on every product.
In Gromo App, you do not sell any food and drink, but here you sell services like Financial Services like Demat Accounts, Saving Accounts, Credit Cards, Loans, for which you do not need to go anywhere. Here all the work like Refer And Earn it happens.
Here, along with earning money by selling such products, Gromo App also has a referral program where you can get people to join Gromo App through your referral link, where you will get level income along with referral commission, that is for lifetime.
So if you are looking for such a way to earn money online then this post Gromo App Review is for you in which we will tell you what is Gromo App, How to download it, Create Account, How to use for earn. If you learn completely about how to earn money, then let us first know what is Gromo App?
What is Gromo App?
This is an application where you earn money by selling financial services such as Demat Account, Saving Accounts, Credit Card, Loan and you will get commission after selling it.
It is India's one of the Fastest Growing Startup. It was launched in January 2019 by Founders from IIT Delhi. There name are Ankit Khandelwal and Darpan Khurana.
This is not an app for opening a trading account or investing in the stock market, but a kind of Financial Products Reselling App where there are only companies providing financial services, this is an app for marketing all those companies where people can use them through this Gromo App. Join a company providing financial services.
Earn Commision
Here a list of top 22 Financial Services companies is listed in Gromo App and to get people joining in all these companies. Different commissions have been set where by choosing a company, people can join in that company and get their fixed commission.
You do not even need to go anywhere to get people to join here, in whichever company you want to join, you can click on that company and make a link and share this link anywhere. and get your commission.
In this way you must have understood what is Gromo App and how it works, now let us know how to download it and how to use it, then you will know how to earn money from Gromo App.
How to Download Gromo App?
Friends, it is very easy to download Gromo App because this App is available on Play Store from where you can easily download and use it.
For this, you just have to go to Playstore where you will see the search bar above, in this searchbar you have to search by typing Gromo App, after which you will get this App which you can download and install on your mobile phone. Or you can download it by clicking on the link given below.
If you are not getting this App on Playstore due to some reason then you can download Gromo App by clicking on this link and also use this referral code 8XA21476. when ask for referral code.
So till now you have understood about downloading Gromo App, but to earn money from Gromo App, you have to create an account for it. So let's know about it.
How to Create Account in Gromo App?
Friends, if we talk about some important things to create an account in Gromo App, then some special things are not needed for this, just a mobile number and email id will be needed. So let's know how to create an account in Gromo App?
Step 1. Open Your Gromo App
When you have downloaded Gromo App, to create its account, first of all open Gromo App, for which first search in mobile phone where Gromo App has been downloaded then click on it and open.
Step 2. Verify Your Mobile Number
When you will open Gromo App, You can see option to enter mobile number will appear here, then enter 10 digit mobile number here, after which an OTP will be sent on the same number, verify it by entering that OTP here.
Step 3. Fill Some Basic Details
Friends, You have not to fill more information here. You just have to fill your name in the top, fill the email id, select your business and enter this Referral Code – 8XA21476 and click on the option "Save" given below.
After completed it, your account will be created in Gromo App and you will also be login in this App. So Let's now know what are the ways to earn money by using this App.
How to Earn Money Using Gromo App?
Friends, So far you have understood a lot of things about Gromo App, but as far as earning money from Gromo App is concerned, only those people who have a users on any Social Platform of the Internet can earn money from this Gromo App or you have There is a shop.
Here user means those subscribers or followers who trust on you. Because the ways to earn money in Gromo App are all the ways to earn money by sharing referral links or links of financial companies.
Because there are only two ways to earn money in Gromo App, first by sharing the links of financial companies or by sharing the referral link of Gromo App, which will require user on the Internet. You can open a shop offline. Let us know about all these in detail.
Earn Money Join Financial Services:
Friends, when you join the Gromo App and login to it, then at the bottom you will see a plus (+) icon on which you click, then you will see a list of 22 or more financial services in which you have to join the the users needed. For which you get money.
In this Financial Services, here is a list to open some Demat Account, some list to open Saving Account, make a credit card list, along with a list like Credit and Crypto, in which you can join people by joining Gromo. You can earn money from App.
So Let's know what is this company and how much money people get for joining in it, so that you can do the work of earning money from this App.
List of Financial Services And their Commission:
Bank Accounts-
Kotak 811 – 250 rupees
Axis Bank – 750 rupees
Jupiter – 450 rupees
NiyoX – 300 rupees
Indusind Bank – 225 rupees
Demat Accounts-
Upstox – 500 rupees
Axis – 400 rupees
Paytm Money – 400 rupees
ICICI Direct – 400 rupees
Bajaj securities – 350 rupees
5Pasia – 125 rupees
Credit Accounts-
Freecharge – 450 rupees
Zest Money – 250 rupees
Bajaj Fiserv – 250 rupees
Fereo Pay – 150 rupees
Mokredit – 0.75% of limit
Credit Card Opening-
Indusind – 2200 rupees
ICICI – 500 rupees
UNI – 300 rupees
Axis – 300 rupees
Loan-
Insta Money – 100 rupees
Crypto Account-
Mudrex Account – 800 rupees
How to earn money from Gromo App?
Friends, till now you have understood about all the products that how much commission will be available in which, but now it comes to what you will have to do with Gromo App for this. So let us now know that method as well.
Step 1. Select Product in Gromo App:
Friends, for this, first open Gromo App and click on the plus (+) icon given below, where the list of all the above mentioned Services will appear. Then from here you select the service according to you. Through which you can make money from here.
Step 2. Create Link of Products:
Now whatever product you like. Click on that product, as soon as you click on any product, here some information about that product will appear, and you will get option to share.
You have to click on this share option, after which a video will come in front of you. Which you will have to watch completely.
When you watch this video, some questions are also asked by stopping the video in the middle of the video, for which you also have to answer, if you watch the video carefully then you can answer easily.
If all your answers are correct, then you can also get some lucky reward. After the video is completed, you will get the link of this product, which you can share and start earning money in Gromo App.
Step 3. Share Link:
When you get the link of the product, then the option of sharing appears below it, then you can share it wherever you want by clicking on the link or you can share this link by copying it.
Earn your Commission:
When you share this link anywhere. People create their account by clicking on this link, as soon as the process of creating this account is completed, within a short time you get your commission in Gromo App.
In this way, you must have fully understood about how to earn money from Gromo App by selling products. So now let us know how to earn money from its referral program in this Gromo App.
Earn and Referral Program:
Friends, There is also a program of Refer and Earn in Gromo App where you can earn money by referral to Gromo App as shown in the picture which is also its term and condition.
You have to share referral link of your Gromo App with your friends, whoever clicks on this link will create an account from this App and whatever Earning will be done from this account. Then 5% of that Earning will give you lifetime.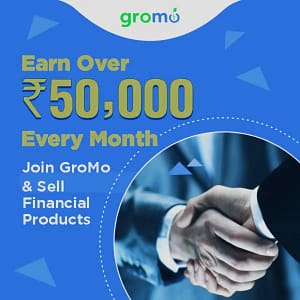 But for this, you will have to get people to download this App from your referral link and by giving your referral code, the user will have to create an account in Gromo App.
To get the referral link and referral code of your Gromo account, first of all you have to open the Gromo App and scroll down, where you will see the option of tools, in this you will get the option to earn from referrals by clicking on Referral Link and Referral You can get the code 8XA21476 and earn money by sharing it.
Please Comment here How like it. And if this Article help to earn money online then Please share this article and give them your referral code to earn.